Latest News
19 October 2012 - 9pm
Queen of Tigers: Natural World Special on BBC2
10 October 2012 - 8pm
Siberian Tiger Quest on PBS
26 July 2012 - 8pm
Tiger Island UK premiere on BBC2
1 February 2012 - 8pm
ManEater Manhunt UK premiere on Nat Geo Wild
10 January 2012 - 7:30pm
ManEater Manhunt premieres in Asia and Australia on Nat Geo Wild
14 September 2011 - 8pm
Echo an Unforgettable Elephant on BBC 2
3 May 2009
Echo the Elephant died, aged 65
Queen of Tigers
Friday 19th October at 9pm on BBC2 and BBC HD
Natural World Special
The most famous tiger in the world is a natural fighter and a loving mother. She rules Ranthambhore, the most spectacular tiger territory in India. Colin Stafford-Johnson has filmed Machli's whole life. Now, 14 years on, he wants to see his old friend for perhaps the last time to complete the story of her dynasty on the lakes.
See clips on the BBC website, or watch again on iPlayer.

Siberian Tiger Quest
Premieres Wednesday October 10th at 8/7c on PBS
Hunted almost to extinction, the last wild Siberian tigers can only be found in the forests of the far eastern Russian frontier—but not easily. Ecologist Chris Morgan embarks on a challenge that will fulfill a lifelong dream — to find and film a Siberian tiger living wild and free in Russia's far eastern forests.
To help him, Morgan turns to Korean filmmaker Sooyong Park, the first individual ever to film Siberian tigers in the wild. Park spent more than five years watching and waiting for a glimpse of the elusive creatures, confined sometimes for months in tiny underground pits or 15-foot hides in trees. His technique was unconventional, but produced more than a thousand hours of wild tiger footage that told the story of a three-generation tiger dynasty.
Tiger Island
BBC2 8pm Thursday 26th July
Hiding deep in the forests of an Indonesian island are some of the world's most elusive big cats, Sumatran Tigers. As the last island tigers stray into the world of humans, many are killed or imprisoned. Now a controversial millionaire may save them. He's releasing tigers accused of man-eating. The world's leading big cat expert, Alan Rabinowitz, sets out to investigate.  In his eyes, it's like putting murderers whose rehabilitation is uncertain back into society and hoping they won't kill again. The experiment on Tiger Island may offer new hope for the world's tigers, or it could spell disaster. Tiger Island will be released as Man Eaters of Sumatra in the USA.
Read more about Alan Rabinowitz and his work with Panthera on the conservation of big cats here.
Coming in 2013
Films currently in production
Namibia - Sand River
Elephant Island
For BBC Natural World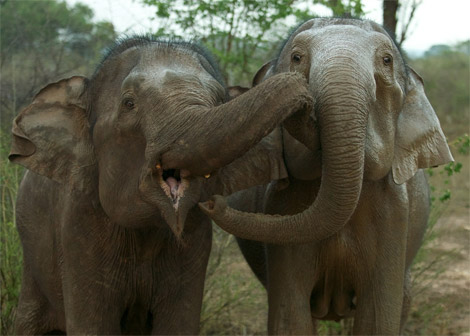 Sri Lanka, the pearl of the Indian Ocean, is a tropical island paradise with the wildlife and culture of an entire continent crammed on an island the size of Scotland. This teardrop at the bottom of the Indian subcontinent, inhabited by more than 20 million people, is home to a herd of more than 6,000 elephants.
Elephants, celebrated as a central part of Sri Lankan Buddhist life, are worshipped and adored across the Island. But their future is in doubt on this tiny island, rapidly running out of space. For the first time in more than two decades it may be possible to evaluate the status of this unique herd of Asiatic elephants that roam one of the worlds most exotic and colourful islands. Sri Lanka has just emerged from a brutal civil war that consumed the country for decades, terrorising people and wildlife alike. Yet throughout the bloody conflict one place remained a refuge for Sri Lanka's elephants, Udawalawe National Park, home to one of the largest herds on the island.
ManEater Manhunt
A series for National Geographic with Gordon Buchanan
UK Premiere on Wednesday, 1st February at 8pm on NatGeo Wild
Wolves, tigers, lions and leopards have fearsome reputations - but in reality they seldom attack people. Scottish filmmaker Gordon Buchanan investigates the deadly exceptions to this rule, looking at why some predators suddenly develop a taste for human prey.
Echo an Unforgettable Elephant
Introduced and narrated by Sir David Attenborough

As head of her family, Echo carried immense experience gained by her forebears over centuries. But the final test of a matriarch is whether she passes on that knowledge.
This film reflects on the life of a remarkable elephant and discovers what happens to the family, bereft of Echo's leadership for the first time in almost half a century.