Behind The Scenes
Attenborough's Wonder of Song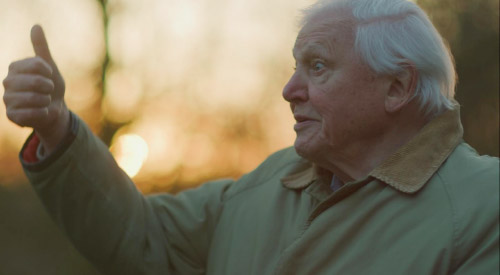 Attenborough's Wonder of Song was commissioned in 2019 by Tom Macdonald - BBC Head of Commissioning, Natural History & Specialist Factual - following our recent films Attenborough's Wonder of Eggs and H is for Hawk : A New Chapter. Tom Coveney took over from Tom Macdonald once production started.
All finances and contracts were finally completed early in 2020 in time for filming to start in spring. And then Covid arrived…..lockdown rules struck quite literally as we set off for our first filming trip to cover spring songsters including the robin, nightingale, great tit, song thrush, blackbird and chaffinch on Knepp Estate in Sussex. Luckily the rules eventually permitted a solitary cameraman to operate alone which is what George Woodcock did. Worryingly at the same time all filming with David was postponed indefinitely.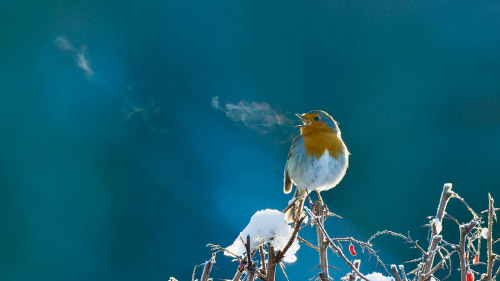 Getting shots of the robin singing and exhaling its cold breath was one of our primary goals. I remember an iconic shot of a wren singing like this in David Attenborough 's series Life of Birds in the 1990s. It was also a challenge David Attenborough himself set us one day when we were discussing our new programme. George did a magnificent job filming the robins. It took many hours of patiently waiting for the right weather conditions and a good knowledge of the robin's behaviour. The robin is one of a few British species that sings in the winter. It is also a rare example of a northern hemisphere species in which both the male and female sing. The female singing almost exclusively in the winter.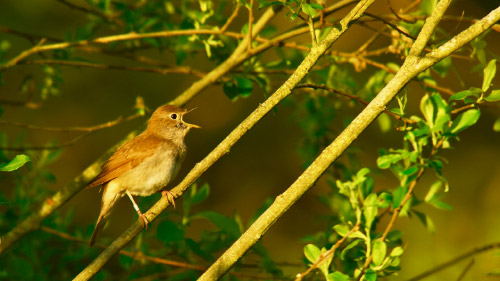 We had essential filming to carry out in Australia and Germany where we discovered many important scientific stories. It became clear we could not film this as planned. Eventually - and luckily - local crews were found - not easy as every production around the world was having to change their modus operandi in the early days of Covid. In Germany, Rosie Koch and Roland Gockel did a fantastic job filming the nightingales of Berlin. Their low light camera enabled them to get some unusual shots of the nightingales singing at night.  They also filmed Conny Landgraf our nightingale expert who did a brilliant job explaining nightingale song behaviour in more detail than ever before.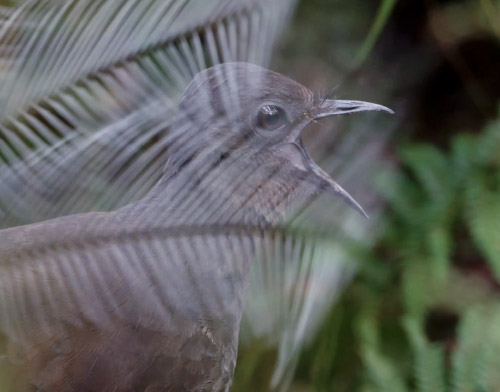 In Australia Nick Hayward filmed our stories on the lyrebirds and fairy wrens. Nick also managed to film our key scientists, despite covid doing it bests to prevent Naomi Langmore, Anastasia Helen Dalziell and Victoria Austin elucidating their research on the superb fairy-wren, the male lyre bird and the female lyrebird respectively. These three brilliant female scientist were a key part of of our thesis illuminating the neglect female scientists have suffered over the years and how female song has been largely ignored until now. Similarly the northern hemisphere has dominated scientist thoughts until very recently missing the fact that bird song originated in the southern hemisphere.
By summer 2020 we were all learning to adapt to Covid regulations but filming with David Attenborough was shelved until August when conditions improved temporarily - not that we knew that at the time. We managed to pick one of the hottest days - 37 degrees C - ever recorded in the UK to film, what we thought at the time, may be our only filming day with David. We had planned 5 more.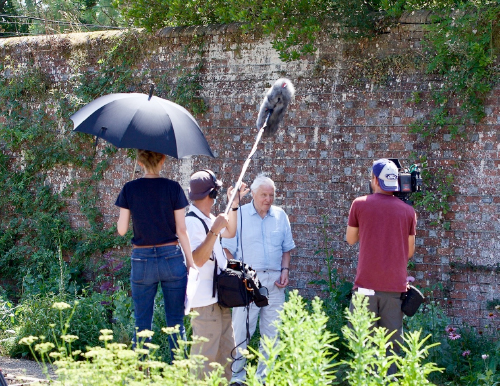 Location filming with David in these covid times required strict adherence to covid regulations - these were masterminded by Cherry Dorrett our line producer who has a remarkable enthusiasm for such things. The proof was in the pudding no one got covid and we all survived! Despite George Woodcock giving us a scare one day. Arriving late on location, due to bad traffic, his temperature was extremely high. Filming was suspended until either his temperature dropped or not! Luckily it did - the stress of his long drive had understandably caused his temporary increase in temperature. We had to follow the rules as applied by our covid protocols supervisor Steve Dorrett and a nurse, both had to be on location with us very filming day with David. We also had to install portal loos on location as well. One exclusively for David and his daughter Susan and one for the crew if there were no handy bushes near by! Following the protocols was time consuming and expensive but who would want to be responsible for causing illness to our national treasure!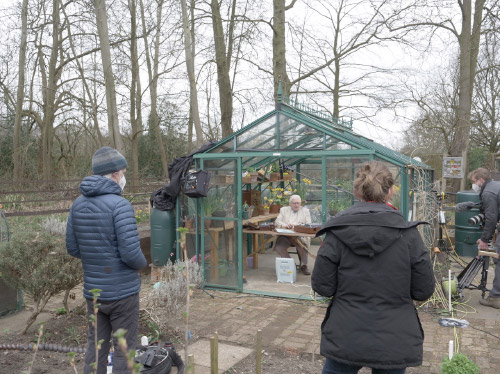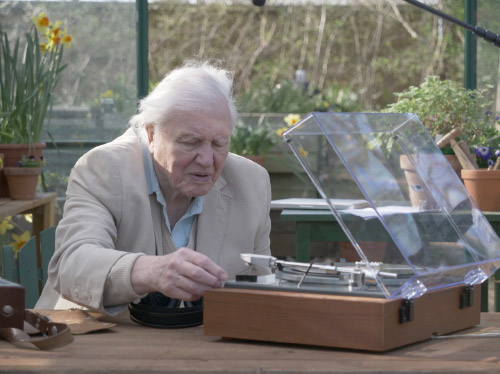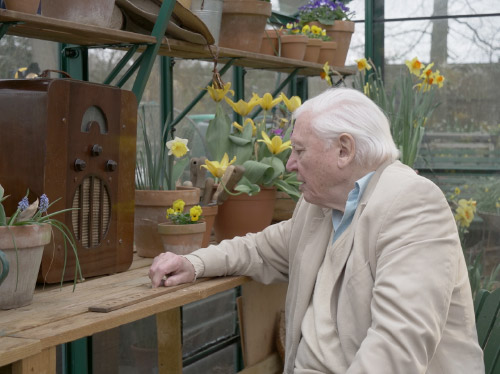 We had to wait 6 months until we could film David again in spring 2021. By now he was double jabbed as was all the crew. However, the rules were still very strict and we could only film him outside. We chose a greenhouse - located in Richmond Park close to David's home. We dressed the set and in it we had tape recorders (thanks Pete McGregor), old radios and record players. All props to play our original recordings of songs that included the great tit, the humpback whale, nightingale and superb fairy-wren. Caroline Aitzetmuller did an incredible job sourcing these unusual pieces of kit. We were looking forward to playing some old 78rpm LPS on the record player we had after production but unfortunately George dropped it whilst trying to get a great tit to land on a revolving deck! The shot is in the film. It was worth it George.
Our last day of filming was in Wytham Woods, Oxford. We had to ask David to get up at 3am to be on location very early to record him listening to the dawn chorus. Luckily the sun shone and the birds sang. It was a glorious morning.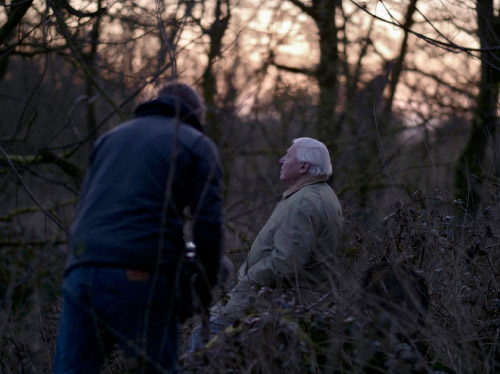 We chose Wytham Woods as this was where Professor John Krebs carried out his famous experiments on great tit song in the 1970s. John and his wife kindly turned up at 5am too so that we could film him telling us about his experiment. By now socially distanced filming had become the norm as can be seen from the picture.
The last major obstacle was recording David's commentary in November 2021. Graham our sound guru (together with sound designed David Yapp) master-minded this at David's house in Richmond whilst Beth, Cherry and I attended on Zoom and Films@59 played the pictures over zoom. A piece of technical wizardry that had enabled us ,along with many other innovations, to complete Attenborough's Wonder of Song despite covid.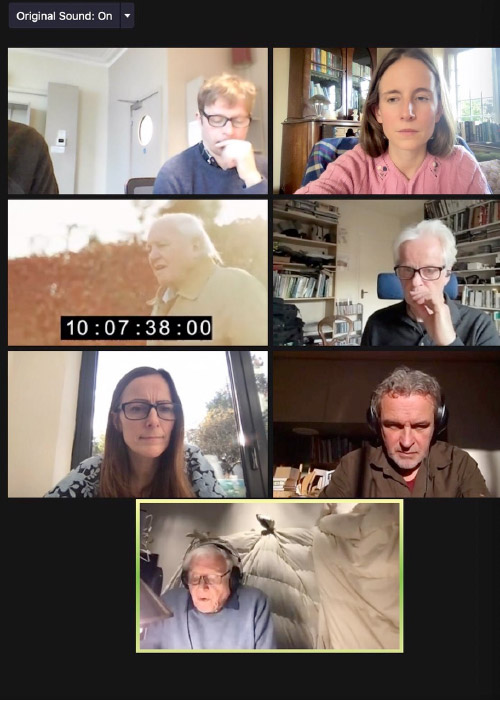 So many people helped us on this production a full list of credits can be found below and a big thanks to everyone concerned.
ATTENBOROUGH 'S WONDER OF SONG
A
MIKE BIRKHEAD ASSOCIATES
  Production for BBC
© Mike Birkhead Associates MMXXI
directed, produced and written by
BETH JONES
MIKE BIRKHEAD
film editors
SABRINA BURNARD
JULIE WILD
principal photography
GEORGE WOODCOCK 
NICK HAYWARD
ROLAND GOCKEL
additional photography and aerials UK
BEN TUTTON
aerial photography Australia
DALE COCHRANE
sound recordists
BILL RUDOLPH
EWAN DRYBURGH
SHANE MUNRO
composer
DAVID MITCHAM
graphics
LINA KALCHEVA
IDA MELUM
scientific consultants
PROF. NICK DAVIES
PROF. PETER McGREGOR
PROF. TIM BIRKHEAD
researcher
MELISSA GILLESPIE
EDO DžAFIć
field producer Berlin
ROSIE KOCH
archivist
CHERYL TIPP, BRITISH LIBRARY
archive
ALEX MAISEY
BBC MOTION GALLERY
Dr. ANASTASIA DALZIELL
Dr. CONNY LANDGRAF, FREE UNIVERSITY
GREENPEACE
ITV ARCHIVE
JIM JACOBI
JOHN L. SINCOCK
JUSTIN WELBERGEN
MACAULAY LIBRARY AT THE CORNELL LAB OF ORNITHOLOGY
NONA NATUREDOX
OCEAN ALLIANCE
POND 5
PROF. NAOMI LANGMORE
PROF. LORD JOHN KREBS
PROF. PETER McGREGOR
ROBERT MAGRATH
THE NATIONAL FILM AND SOUND ARCHIVE OF AUSTRALIA
colourist
PAUL INGVARRSON
dubbing mixer
GRAHAM WILD
sound design
DAVID YAPP
production manager
CAROLINE AITZETMULLER
line producer
CHERRY DORRETT
the producers would like to thank (tbc)
ADAM CURTIS
ALEX MAISEY
AUSTRALIAN NATIONAL BOTANIC GARDENS
BLUE MOUNTAINS NATIONAL PARK
BRITISH TRUST for ORNITHOLOGY
CANBERRA BOTANICAL GARDENS
DEPARTMENT OF PLANNING, INDUSTRY AND ENVIRONMENT, NSW GOVERNMENT
DOUG PRATT
JIM JACOBI
KARAN ODUM
KEITH McMAHON
KNEPP ESTATE
ISABELLA TREE
MATT CHAUMONT
PARKS VICTORIA
PENNY GREEN
RSPB
SILKE KIPPER
STEPHEN DORRETT
TASMANIA PARKS AND WILDLIFE SERVICES
THE ROYAL PARKS
BBC Commissioning Editor
TOM COVENEY

Back to top
Our Programmes


Back to list