The Real Monarch of the Glen
6 x 30 for BBC Natural World
Executive producer for BBC - David Harron
Narrated by Peter Capaldi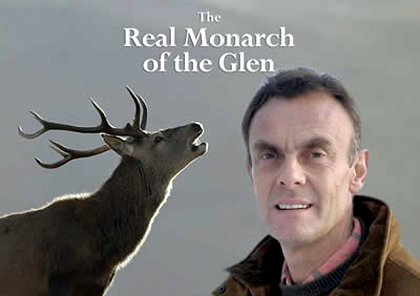 Multi-millionaire Paul Lister is creating Europe's first wild nature reserve, in Scotland. He believes that the Highlands are in terrible shape – stripped of the old Caledonian pine forests, ravaged by excessive numbers of red deer, shorn of native animals. At his estate at Alladale, Paul intends to welcome back bears and wolves. He's beginning with wild boar - and plans to bring in moose at any minute. Importantly, Paul's not alone – from manager to ranger, chef to shop assistant, digger-driver to piper – everyone plays their part.
1. Paul's Big Idea
2. Boar on Board
3. A Family Visit
4. Meet the Wolves
5. Let Them Eat Venison
6. Moose on a Plane
The Story
This is the story of Paul Lister's mission to return five glens and two rivers in Scotland to the wild state they enjoyed at least three centuries ago – in what has been described as the most ambitious, expensive, and controversial ecological project ever undertaken in northern Europe. But it's also an intriguing and often hilarious insight into the lives of the varied cast without whom he'd be lost – the colourful characters working on his land, lodge and shop to pay for it all.
Meet guitar-playing, singing estate manager Hugh, his wife Isla, who runs the big house, Kenny the chef struggling to keep his portions under control, and the front of house managers who come and go. Guests arrive to be married or celebrate their last days of singledom; everyone from family to schoolchildren go fishing rain or shine, and rangers patrol the glens to keep track of those pesky deer. Big Al the boar does the business, piglets thrive or meet an unexpected end, there's venison on every menu, and bears hide in Sweden but wolves get on top of Paul in England. Swedish moose dealers fall in love with Scotland, and Hulda and Hercules become the Highlands' latest animal immigrants.
CREDITS
MIKE BIRKHEAD ASSOCIATES FOR BBC.
SERIES PRODUCER MIKE BIRKHEAD
PRODUCER KATE MUNRO
PHOTOGRAPHY MIKE CUTHBERT
SOUND DAVE EDEN
EDITORS ALEX BROAD & ANGELA SLAVEN
WRITER JEREMY EVANS
MUSIC DAVID MITCHAM
BBC CONCERT ORCHESTRA

Back to top
Our Programmes


Back to list