Tiger
Jackson Hole award winner 1999.
BAFTA award winner and BAFTA nominee for best presenter.
Nominated finalist for Wildscreen 2000.
Wildscreen Panda award for music.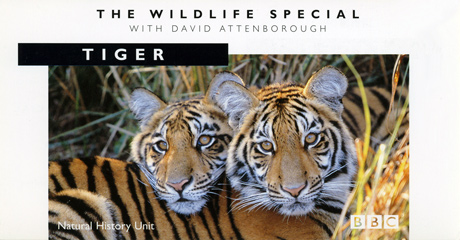 The Wildlife Specials are the ultimate portraits of the world's most charismatic animals. "Tiger" is no exception. Thousands of hours were spent by award-winning camermen Hugh Miles and Chip Houseman finding and filming this rarest of big cats to produce the definitive tiger film.
This film follows one female tigress and her three cubs as they struggle to survive in Kanha National Park in the heart of Kipling Country - wildest India. The tigers' safety is ensured by forest guards, called mahouts, riding daily elephant patrols, to watch over Kanha's one hundred or so tigers, throughout the year. The film is made even more remarkable by the fact that the cameramen had to film the most beautiful and intimate behaviour of this tigress and her family ever seen, from the back of one of these elephants. Keith Scholey (Head of BBC's Natural History Unit) said "this is one of the finest wildlife films ever made." Introduced & Narrated by David Attenborough.

Back to top
Our Programmes


Back to list