Tiger Zero
Mike Birkhead Associates for Animal Planet
Won best Conservation film in Singapore Wild Asia Film Festival and best conservation message at Missoula in US International Wildlife Film Festival in Missoula. Finalist at Wildscreen 2006.
See BBC Wildlife autumn 2005 for a review by Mark Bristow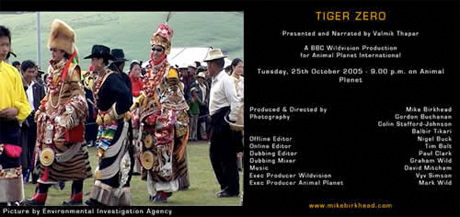 "Tiger Zero takes the form of a personal odyssey by Indian tiger expert ValmikThapar, as he investigates worrying reports of tiger disappearances and the machinations of politicans and park autthorities as they either procrastinate or go into denial."
The film was reviewed even before it was finished and many additional significant findings have now been included. It includes major contributions from Belinda Wright of the Wildlife Protection Society of India and Raghu Chundawat and Ullas Karanth - leading tiger biologists also B.K. Sharma the chief investigator for the CBI into the debacle in Sariska Tiger Reserve where all the tigers disappeared in 2004. The Indian Prime Minister, Rajesh Gopal (Director of Project Tiger) and Sunita Narian (Chairperson for PM's Task Force) also make contributions.
If you care about tigers this film will make your blood boil.
For more information see the Environmental Investigation Agency website and Wildlife Protection Society of India web site.
Produced & Directed by Mike Birkhead
Offline Editor Nigel Buck
Archive tiger Photography 
Gordon Buchanan
Colin Stafford-Johnson
Additional Photography
Mike Birkhead
Balbir Tikari
Online Editor Tim Bolt
Dubbing Editor Paul Clark
Dubbing Mixer Graham Wild
Music David Mitcham
Exec Producer Wildvision Vyv Simson
Exec Producer Animal Planet Mark Wild

Back to top
Our Programmes


Back to list