Latest News

November 2018

H is for Hawk: A New Chapter wins Best Natural History Film at the Grierson Documentary Awards
Liesel Evans, Jury Chair: 'Our winning film was an original approach to a compelling love story. The level of craft on the film was exceptional, and it was a classic piece of documentary film-making.'

Attenborough's Wonder of Eggs gets highly commended for Best Science Documentary at the Grierson Documentary Awards
Jane Aldous: 'It is a beautiful film, full of good science that revealed the extraordinary in the ordinary.'
October 2018
H is for Hawk: A New Chapter is nominated for Best Sound and Best People and Nature Film at Wildscreen Festival 2018
September 2018
H is for Hawk: A New Chapter is nominated for the finals of Grierson documentary awards in Best Natural History Film
Attenborough's Wonder of Eggs nominated for the finals of Grierson documentary awards in Best Science Documentary
July 2018
H is for Hawk: A New Chapter wins Best Music Award at NaturVision 2018 Germany
November 2017
Badlands Hard Rock Tough Lives wins Best Film Award at WIFF - Woodpecker Film Festival 2017
April 2017
Ostrich: A Life on the Run wins 2 Gold Medals for Nature & Wildlife and Best Camerawork at New York Festivals
October 2016
Ostrich: A Life on the Run wins Jury's Special Award at Wildlife Vaasa International Nature Film Festival
Wild Sri Lanka wins at Cannes Corporate Media & TV Awards
September 2016
Ostrich: A Life on the Run wins Audience Award at Green Screen Festival
Ostrich: A Life on the Run wins 1st Place in Category "Nature" at Matsalu Nature Film Festival
June 2016
Wild Sri Lanka wins at Deauville Green Awards 2016
May 2016
Wild Sri Lanka wins at New York Festivals 2016
September 2014
Namibia's Desert Kingdom wins Best Photography at Matsalu International Nature Film Festival
May 2014
Namibia's Desert Kingdom wins at New York Festivals® International TV & Film Awards 2014
January 2014
Namibia's Desert Kingdom wins at Namur Nature Festival 2014
16 August 2013
Siberian Tiger Quest won Outstanding Contribution to Wildlife Filmmaking @ Japan Wildlife Film Festival for Sooyong Park
16 August 2013
Siberian Tiger Quest won Outstanding Contribution to Wildlife Filmmaking @ Japan Wildlife Film Festival for Sooyong Park
15 August 2013
Queen of Tigers wins award at JapanWildlife Film Festival
12 August 2013
Namibia Desert Kingdom nominated for Best Photography @ Jackson Hole
9 August 2013 - 9pm
Sri Lanka: Elephant Island on BBC2
8 August 2013
Hunt for the Russian Tiger wins at Japan Wildlife Film Festival 2013
4 August 2013
Siberian Tiger Quest nominated for an Emmy award
28 June 2013
Namibia's Desert Kingdom wins at CINE Golden Eagle Awards 2013
27 April 2013
Hunt for the Russian Tiger wins 3 awards at IWFF International Wildlife Film Festival 2013
16 April 2013
Hunt for the Russian Tiger wins at Deauville Green Awards 2013
19 October 2012 - 9pm
Queen of Tigers: Natural World Special on BBC2
10 October 2012 - 8pm
Siberian Tiger Quest on PBS
26 July 2012 - 8pm
Tiger Island UK premiere on BBC2
1 February 2012 - 8pm
ManEater Manhunt UK premiere on Nat Geo Wild
10 January 2012 - 7:30pm
ManEater Manhunt premieres in Asia and Australia on Nat Geo Wild
14 September 2011 - 8pm
Echo an Unforgettable Elephant on BBC 2
3 May 2009
Echo the Elephant died, aged 65
Attenborough's Wonder of Song
For BBC in production now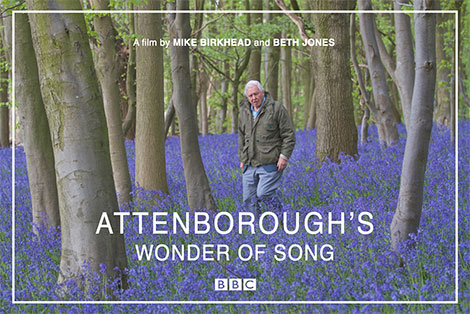 Join David Attenborough for a global tour of the natural world's finest concert seasons. From Australia's sun-drenched, bird-filled forests to the dark depths of the humpback whale home in the South Pacific, the world is full of animal orchestras. Meet crooning cuckoos, singing gibbons, warbling whales and wailing wolves and some belting birds that are starting a singing revolution about to change everything we think we know about song.
Attenborough's Wonder of Eggs
Mike Birkhead Associates for BBC Two
Directors: Mike Birkhead, Beth Jones
Premiered on BBC2 on the 31st March 2018
David Attenborough reveals what lies behind nature's most perfect thing: the bird's egg. It's a remarkable structure that protects a new life from the outside world at the same time as allowing it to breathe. It is strong enough to withstand the full weight of an incubating parent and weak enough to allow the chick to break free. But how is an egg constructed? And perhaps more importantly, why is it that way? In this programme, we follow an egg from its creation to the moment when life breaks out of it.
H is for Hawk: A New Chapter
Mike Birkhead Associates for BBC Two and PBS
Directors: Mike Birkhead, Beth Jones
A new exciting film with author Helen Macdonald
After the unexpected death of her father, Helen Macdonald was almost torn apart by grief. Shutting herself away from her family and friends, she decided to train a goshawk: the fiercest of all Britain's birds of prey. Her record of this time became an international bestselling book H is for Hawk. A decade on from her father's death, and years since her hawk Mabel died, Helen has decided she is ready to return to the world of goshawks once more and is attempting to train a new goshawk, her first since Mabel.
Badlands
A film for Terra Mater and Smithsonian
In the heart of the American Midwest lies a spectacular landscape – the Badlands. At first glance, this natural wonder seems ravaged and barren – a hostile place to live.
Ostrich - A Life On The Run
A programme for Terra Mater and National Geographic
The ostriches of Namibia face an annual challenge: choosing the exactly the right moment to breed. The birds must ensure their clutches hatch around the time of the rains. If the timing is wrong, food will be scarce and the chicks will die. If it's right, then a new generation gets the chance of a life on the run.
Attenborough's Big Birds
For BBC Natural World and PBS/Nature
Premieres on Tuesday the 16th of June at 8pm on BBC Two
David Attenborough tells a gripping tale of bizarre birds, dedicated dads, enormous eggs and a giant, curly penis. It's the story of a family of modern-day flightless dinosaurs - the Flintstones of the bird world.
Wild Sri Lanka
For Terra Mater
3 x 50 min programmes to be shown on National Geographic and ServusTV
Nowhere else on earth is the power of water to create, shape and sustain life so dazzlingly evident as on the tiny oceanic island of Sri Lanka. Rising from the waves, it is a land where not one, but two monsoons mark time. A world where rains pour down, clouds swell, rivers flow, mists dance across the skies, frosts dust the highlands and thousands of man-made lakes form a curious wonderland filled with a wildlife that is strange, beautiful and utterly unique. In this series we will delve into the land of these breathtaking creatures – from the largest mammal on earth, the blue whale, to the smallest, the etruscan shrew – and discover how, from the moment Sri Lanka fractured from the southern supercontinent of Gondwanaland and was carried by the oceans to its present home – it has been an island which has been ruled by one unstoppable force: water.
Until recently, a quarter of a century of civil war isolated Sri Lanka's wildlife from the world. But now that war is over and Sri Lanka's once-troubled waters are parting to reveal unseen ecological riches for the very first time.
Sri Lanka: Elephant Island
BBC2 9pm Friday 9th August 2013
Sri Lanka, the tropical island lying off the southern coast of India, is home to its own special elephants. A sub species of the Asian elephant, they have their own unique characteristics. In this programme, award winning wildlife cameraman Martyn Colbeck of Echo of the Elephants fame travels to Sri Lanka to try and get to know them.
Martyn has planned his arrival to coincide with the start of the monsoon, hoping it will be the best time to find and follow a new born calf. By drawing on local knowledge, Martyn begins to unravel the complex social world of Sri Lanka's elephants - he witnesses a fight over a calf, a battle between two bulls in musk and, at an elephant sanctuary, befriends an orphaned elephant who sadly lost a leg to a snare and is facing an uncertain future.
Namibia Desert Kingdom
For Terra Mater
Some people call this the "The Land God made in Anger", while others named it "The Gates of Hell". Sand dunes a thousand feet high, shimmering mirages, scorching temperatures - the deserts of Namibia in South West Africa. Although this place looks totally inhospitable there is a remarkable diversity of life found in the sand rivers that bisect the desert dunes.
This film tells remarkable story of how Namibia's vast desert was formed over eons from the ground sediment of the Orange River in the south of Namibia. Despite the seemingly barren land a surprisingly rich variety of life can be found here from huge desert elephants to herds of oryx, tiny meerkats and vast flocks of sandgrouse. All this prey attracts impressive prides of lions, secretive caracals a several species of desert falcons and cape foxes. Made by the multi award winning team of cameraman/director Martyn Colbeck and producer directed Mike Birkhead this is one of the most beautiful films ever produced on Namibia's Deserts.
Siberian Tiger Quest
Made with PBS and Terra Mater
Hunted almost to extinction, the last wild Siberian tigers can only be found in the forests of the far eastern Russian frontier—but not easily. Ecologist Chris Morgan embarks on a challenge that will fulfill a lifelong dream — to find and film a Siberian tiger living wild and free in Russia's far eastern forests.
To help him, Morgan turns to Korean filmmaker Sooyong Park, the first individual ever to film Siberian tigers in the wild. Park spent more than five years watching and waiting for a glimpse of the elusive creatures, confined sometimes for months in tiny underground pits or 15-foot hides in trees. His technique was unconventional, but produced more than a thousand hours of wild tiger footage that told the story of a three-generation tiger dynasty.
Queen of Tigers
Friday 19th October at 9pm on BBC2 and BBC HD
The most famous tiger in the world is a natural fighter and a loving mother. She rules Ranthambhore, the most spectacular tiger territory in India. Colin Stafford-Johnson has filmed Machli's whole life. Now, 14 years on, he wants to see his old friend for perhaps the last time to complete the story of her dynasty on the lakes.
See clips on the BBC website, or watch again on iPlayer.