Martyn Colbeck
Cameraman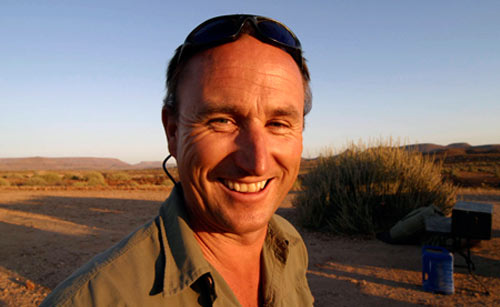 Martyn is an award-winning film-maker and photographer who has been filming wildlife worldwide for over 20 years. He started his career in 1980 when he joined London Scientific Films, a small production company specialising in macro sequences for broadcast television. But after 5 years with LSF Martyn left to go freelance and since then has travelled extensively to some of the most remote corners of the globe, to film an extraordinary variety of wildlife, much of it rare and endangered.
Working mainly for the BBC's Natural History unit based in Bristol, UK, Martyn has filmed sequences for many of the best known blockbuster series produced by the BBC over the past 15 years, most recently the highly acclaimed LIFE OF MAMMALS. As well as filming sequences within series Martyn has made many award-winning films either as cameraman or director/cameraman. These include Elephants of the Sand River, directed, filmed and co-produced by Martyn. This film, which involved spending 10 months in the remote Kaokoveld region of north west Namibia followed the fortunes of the rare and extraordinary desert elephants. The film won Martyn the cinematography panda award at the Wildscreen International Wildlife film festival in 2000.
Martyn directed and filmed the Mountains film for the successful WILD AFRICA series, a series that received several awards and a BAFTA nomination for cinematography.
Other recent film credits include the multi award winning GELADA BABOON; THE BATTLES OF BRAVEHEART for Green Umbrella/BBC, CONGO for Scorer Associates/BBC which won the Royal Television Society best series award, and PYGMY CHIMPANZEE; THE LAST GREAT APE for BBC's Wildlife on One series. This film won the special jury award at the Jackson Hole International film festival in 1996.
Martyn is probably best known for his work with African elephants. After filming elephants sequences for DAVID ATTENBOROUGH'S THE TRIALS OF LIFE, Martyn joined up with the late producer Marion Zunz and elephant researcher Cynthia Moss to make a ground breaking film called ECHO OF THE ELEPHANTS. This film followed the fortunes of a single family of elephants living in Amboseli National Park in Kenya, lead by a wise old matriarch called Echo. The film, which was first shown in 1993, won many awards. A second film followed and documented another four years in the family's life.
Martyn and Mike have worked together on several series and films over the years, most notably THE LAND OF THE TIGER series, BADLANDS for BBC's Natural World series and GROUND HORNBILLS for BBC's Wildlife on One series.
Martyn and Mike are now working on the third film in the ECHO OF THE ELEPHANTS trilogy – a series of films that will have documented 14 years in the life of one elephant family, by the time it is completed in the autumn of 2004, a unique achievement in the world of wildlife film-making.
Mike Birkhead
Gordon Buchanan
Saritha Wilkinson
Nigel Buck
Cherry Dorrett
Valmik Thapar
Martyn Colbeck
Joe Loncraine
Jeremy Evans
David Mitcham